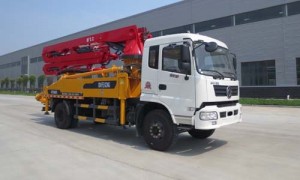 Concrete pump truck is most widely used on construction sites, SYMMEN boom pump for sale have earned a good reputation for the high quality and safety in China.The concrete pump truck is a machine used for transferring liquid concrete by pumping.It is a concrete pump attached to a truck and known as a boom concrete pump, because it uses a remote-controlled articulating robotic arm (called a boom) to place concrete accurately. Boom pumps are used on most of the larger construction projects as they are capable of pumping at very high volumes and because of the labour saving nature of the placing boom.A concrete pump truck is a self-propelled diesel-powered vehicle that comprises a lengthy boom to aid in reaching high or hard-to-reach areas.
Feature and Parameter of Concrete Pump Truck
Chassis and dynamical system: The concrete pump truck is equipped with Shiyan Dongfeng truck chassis, which has strong carry capacity, good dynamic performance and low fuel consumption. It could matches with separate power or chassis power, achieving fuel economy, energy consumption reduction and easy maintenance.
Pumping hydraulic system: The operation of concrete pump truck becomes more simple and reliable through full hydraulic control system and hydraulic transfer signal. Improve swing cylinder commutation speed and reduce commutation impact. Meanwhile, large cylinder commutates with accelerating action. It can enrich the concrete cylinder, making the material ejection continuously and evenly,
Boom and outrigger hydraulic system: Boom applies with load-sensitive proportional control system. It makes the boom running freely with excellent operating performance. Not only can achieve infinitely variable speed remote control, you can achieve emergency manual operation in critical situation. Oil circuit changes directly between boom and outrigger system, avoiding mistake operation in order to ensure the safety construction of the concrete pump truck.
Boom: Through finite element analysis, dynamic analysis and experiment, the material is made of high strength low alloy steel plate on the basis of accurate data support. All materials and welds through 100% non-destructive testing, ensure the concrete pump truck rational boom structure and high reliability.
Electronic control system: Concise and reliability of concrete pump truck electric control system applies Schneider as its major electrical appliances. It equips with two operate devices: disk and wireless remote control. You can choose Howard HBC wireless remote control, which is designed in line with principles of human engineering, good appearance, easy operation and flexibility.
Lubrication system: Lubrication system uses automatic multi-point lubrication technology, one-to-one lubrication. It extends the service life of wearing parts effectively.
Item
Unit
Value
Pumping system
Max. theoretical output
m³/h
40
Concrete pumping pressure
MPa
8
Max. diameter of pumping concrete aggregate
Mm
40
Concrete slump
Cm
14-23
Concrete cylinder diameter
Mm
160/180
Piston stroke
Mm
1000/1200
Max. pumping times
Times/min
26/13
Pumping hydraulic system pressure rating
Mpa
28
Hopper capacity
L
500
Swing valve type
Mm
S tube valve
Inner diameter of delivery tube
Mm
125
Placing boom system
Placing boom type
Rolled type
Placing boom number
3
Slewing angle range
。
90/180/240
Pumping vertical height
M
22
Slewing radius
M
18
Rotation angle
。
360
Hydraulic system pressure
Mpa
30
Chassis system
Wheelbase
Mm
4700
Tread
Mm
1800
Max.travelling speed
Km/h
80
Engine
Engine Model
4105/4110
Max. output power
KW
103
Overall weight
KG
13000
Overall dimension
(Length×Width×Height)
mm
9400x2200x3200
Summary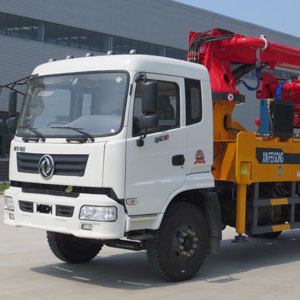 Article Name
Description
Concrete pump truck is most widely used on construction sites, SYMMEN boom pump have earned a good reputation for the high quality and safety in China.