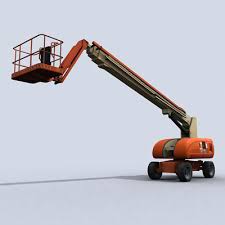 For the inaccessible heights at your job site and the repair work you wanted to do for wiring, there are quite a few apt equipment that are available to facilitate you. Cherry Picker is one of them. They allow you to make all arrangements and work at heightened places. Initially, the Cherry Picker was used to pluck fruits form orchards and now the usage and increased to almost every sector of the industry.
Be it telecommunication, wiring and cable segments and many other areas, Cherry Picker, also known as Boom Lift or man Lift, is used for doing the work. It is a platform or bucket like shape attached to a crane and it can take the weight of a person depending on the size of the basket. The industry usage differs as per requirements. The types of Boom Lift can be manual, electric or pneumatic. The height of platform or bucket can be adjusted and also raised or lowered depending on the need.
Cherry Picker is almost used for every industry. Generally attached to a truck or vehicle, it is portable and can be taken to any place as per convenience. With its usage widely spread, it is not restricted for industrial purpose, it can also be used for decoration, maintenance and cleaning needs. Other than this, the ad world also makes use of Boom Lifts to fix banners and advertisements. There is a wide variety of models available to select from and turn your job site into an easier and safer zone.
Along with Cherry Picker, there are Lift Tables that are also known for its material handling techniques. The Lift Tables are used for lifting, repositioning or shifting loads. They are highly effective and drastically reduce the efforts and time taken to do the same task manually. Other than industrial areas, they are used at warehouses, construction sites, automobiles industry, manufacturing sections and many more.
With high end technologies and advancement, material handling equipment have gone through tremendous change and they have offered extremely efficient devices like Cherry Picker, lift Tables and more. Make every work at your work place for faster and simpler by using this equipment.