Crane is most useful construction machine that is used for lifting heavy objects into the skies and place them any directed destination, all of the job is done through lifting force. Furthermore, cranes are divided into some main parts like hoists, sheaves, chains or wire ropes and these all parts merge and play important roles for completion of any task. Cranes are varied with purpose to purpose and shape to shape but more detail fully these cranes can be mobile or immobile according to different situations of work. Some common types of cranes are grouped here for your easiness through work.
Six Types Of Cranes
Boom Crane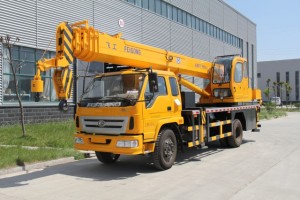 Boom crane is from common types of crane that are easily mobilized and installed somewhere on the trucks. Boom cranes are also known as loader cranes or loading cranes because the main functions of crane based on hydraulic boom-arms. It is similar one with hydraulic excavators because of tasks and specialty towards construction plans. It can carry the weights from one destination and drop it to other destinations. China is one of the biggest exporters for Boom Cranes from many years with unbeatable qualities and besides them the great manufacturers are Caterpillar, Tadano and JCB.
Crawler Crane
Crawler cranes are commonly used cranes but they are used for construction purposes like big buildings because of its surface manageable tracks instead of rubber tires. Crawler cranes found as comprehensive construction machines that constructs freely with its easy mobilization facility of objects far away from sites. Crawler cranes are only machines that can hold more than 35000 tons of weight at one time but the compulsion is that it can't mobile steadily with weights!
Gantry Crane
Gantry cranes are simple form of crane most commonly used under mining because it has rail mounted tracks and can't be mobilized without tracks. It has a horizontally movable trolley fixed on the beams called girders and the second big purpose of this crane is seeable in large industries where gantry cranes hold large but leveled boxes.
Jib Crane
Jib cranes are also belonging from the families of fix-based cranes and they are installed usually on floors or walls and can be seen mostly in the industries, sea ports and on army vehicles. The quite interesting thing is that it has fixed moveable ratio and because of its fixed boom it can only move in horizontal structures. Jib cranes can be installed on trucks for mobilization so the most of the manufacturers are busying and working for the compaction of size.
Tower Crane
Tower crane can be seen mostly placed on the under construction giant buildings where these cranes perform necessary tasks like moving concrete and other materials from ground to top. The specially designed structural boom can be longed or shorted according to the constructional needs. Tower cranes have long metal ropes by that attached a bucket for pulling up the objects from surface and left them on the top by the pulling the load up through hydraulic strain.
Truck Crane
It is vehicle-type or vehicle-mounted crane used for fast mobilization and can be at every location very easily. Usually, electrical companies used these types of cranes to reach out wires and poles. The second big use can be seen as car lifting machine that is mostly equipped with the government soldiers. Truck cranes have also hydraulic booms, buckets and fixed base. The largest manufacturer of truck cranes are China as usual.
Crane Parts


As like crane is one of the most useful construction equipment so it has some useful parts that make it comprehensive under other construction machineries. Some of the common crane parts are as follows:
Boom is most important part of crane used for main purpose for which the crane made. You may recognize the type of crane by its boom. It is a steel beam used as arm to hold the load.
Outriggers are used to balance the crane when there is heavy load on one side and it can be mostly seen on the truck cranes while working on irregular surfaces.
Winch more frequently used to hold the cables or wire ropes and move them up and down when necessary.
Rotex Gear is the gear installed beneath the cab used for rotation of cab and boom on angles that are defined. Rotex gear is the most usual part of truck cranes.
Hydraulic Ram is fixed with the boom acts as a hydraulic piston which extends and retracts the position of boom-arm.
Counterweights used to stabilize the crane while it is carrying the load and it is one of the necessary parts of crane.
Cables & Hooks can be found around the crane's boom are necessary parts used to keep, hold and drop the loads.
No doubt, these Types of Cranes are the kings of construction industry used to hold tons of loads without any interruption of power and destination. Some big manufacturers of cranes with different features are Tadano, JCB, Caterpillar, SYMMEN, Kobelco, Kato, Cargotec and Liebherr. If we talk about countries so largest manufacturers of cranes are China, America and Japan.
You may be interested in: