When you are involved in huge construction and installation works, then dealing with massive chunks of blocks and pipes is part of normal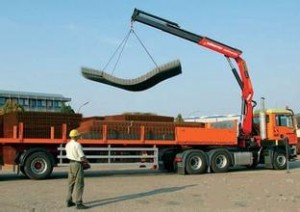 course, but handling these gigantic commodities can be equally challenging as well. smithcapital is a well established company operating in South Africa providing industrial solutions from past 40 years. We provide plethora of services to our clients across South Africa, such as design and product development, field service, in-house repairs, parts and consumables, evaluation of customer's needs, training and commissioning and all such services related to construction and development industry. We deal in drills, cranes and aerial platforms to facilitate all kinds of construction needs. A specially designed knuckle boom crane is also part of our highly engineered product line.
The knuckle boom crane appears almost similar to a standard crane. The noticeable difference lies in the boom which is articulated as a 'knuckle' near the centre, letting the holder fold back like finger grip. The arms of these cranes are much lighter than the usual boom truck cranes. The knuckle boom attached to the crane shaft is designed so as to allow heavily loaded items to be carried on the back of the truck, it is mounted on. These cranes also come with different types of control systems, like stand up control, seat control, control from the ground, radio remote control. The Knuckle boom cranes are very popular in the places where roads are narrow. They are specially designed to be used in an offshore environment. The winches of this crane are fitted outside the crane house as they require a large storage capacity for ultra deep lifts. So it can be of great assistance for you in construction, pipe handling, subsea installation work etc.
The knuckle boom crane usually looks like a regular pedestal crane which is bolted by slew bearing to the pedestal but the boom however consists of two parts, i.e. the hinged centre and knuckle boom. When both these parts are functional using hydraulic cylinders then they move in such a way that they assume the shape of human fingers. It folds down to a compact size, but also extends to a long way. Due to this these cranes prove to be more safe and efficient. It offers precise control of operators have over the load and can be placed directly where they are needed wither on rooftops, or on the ground or on higher floors of buildings. The two independent electro-hydraulic power units make these cranes capable of holding heavy weight items as well. The heavy compensation system which is created due to the hydraulic cylinders has an extreme fast response even at low power consumption level because it stores energy in an accumulator. The crane has horizontal extensions enabling it to reach longer distances at a lower height from ground level. It is also provided with manual as well as an automatic overload protection system.
It is very important to choose the right truck mounted crane keeping in mind the following aspects:
Increased payload

Lower profile to carry loads a longer way

Long reaches with extension to compete with telescopic cranes

Increased control


Versatility
Thus, you should always take into consideration these aspects while picking the tools for your needs. Among several knuckle boom crane manufacturers, Smith Capital is the oldest company and most widely accepted. We are recognized for our innovative product designs and durable construction and precision controls. In addition to this we are constantly exploring to develop new and heavier means of application to enable our customers to have real-time heave compensation thereby minimizing the load movement.