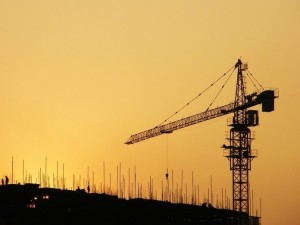 While looking at tower cranes, impossible to imagine of what they are capable: it must fall down! How can it lift all that heavy stuff? How does it getting taller following the building in its height? We are glad to present in this article the describtion of the construction of tower cranes and their technical characteristics.
A tower crane can lift a maximum load of 18 metric tons (39,690 pounds), but not if the load is at the jib end. The closer the load is to the mast, the more weight the crane can lift safely. The relationship is told in the 300 tone-meter rating. For example, if the load is placed at 30 meters (100 feet) from the mast, the crane will lift a maximum of 10.1 tones.
Two limit switches are used at the crane to make sure that it is not overloaded by the operator:
The pull on the cable is monitored by the maximum load switch that is made to be sure that the load is not more than 18 tones.
As the load moves out on the jib, the load moment switch prevents the operator from exceeding the tone-meter rating of the crane. In the slewing unit there is a cat head assembly that can measure the amount of the jib collapse and the moment of overloading.
And it would be a disaster if something falls over on a job site. So, what keeps these great machines from tipping over?
The key element for the tower crane being stable is a large concrete pad. It is poured by the construction company several weeks before the crane's arrival. Its size is 30 feet by 30 feet by 4 feet (10 x 10 x 1.3 meters) and weight is 400,000 pounds (182,000 kg). Large anchor bolts screwed deep into the pad to support the crane's base:
So, to ensure their stability, tower cranes are bolted tight to the base.
Tower cranes are delivered to the construction site by 10 to 12 tractor-trailer rigs. The mast is erected from the firm foundation. The mast remains upright due to the triangulated structure.
As the building is completed, the crane disassembles its own mast and then the rest is disassembled by smaller cranes.