A telescopic boom crane is a solid investment for companies in a variety of industries, ranging from forestry to construction. The truck's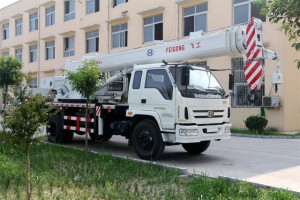 versatility and power makes it an indispensable tool on any job site requiring manual operations at high altitudes. As with any purchase of new machinery, there are certain precautions that must be taken before buying a telescopic boom crane at an auction or any other such avenue to avoid overpaying or purchasing a poor-quality vehicle. By carefully researching the market and determining the intended use of a new vehicle, a great deal of money can be saved when investing in a telescopic boom crane.
Purpose
Companies looking to invest in this equipment should determine the exact purpose for which the telescopic boom crane will be used, as well as dimensions and specifications for the required work to be accomplished. Companies working high in tree tops; transporting people and supplies to great heights at construction sites; elevating workers to perform maintenance on signs or street lights; and completing electric line repairs all have good reasons to invest in such heavy-duty equipment.
Depending upon the exact size of the forests, buildings and other work areas, larger boom sizes may be required. This is why careful specifications are imperative to avoid purchasing inappropriately sized equipment. If a machine is going to be used in extreme weather conditions such as heavy rain, snowfall or strong winds, there needs to be consideration given whether to purchase additional accessories for the machine.
Price Comparison
Once the specifics have been determined, prospective buyers should begin to compare purchase prices from dealers and auction companies. It may be a somewhat lengthy process; however, patience will be rewarded if time is taken to thoroughly compare everything in order to help prevent the purchase of an inferior product. A big price gap between two trucks may indicate a variety of things: one model may need extensive servicing and repairs before safe to operate; the other may have recently passed several inspections and is fully refurbished.
Expensive models may also have been fitted with a number of accessories, some of which may not be necessary for a buyer's needs. In such instances, it may be possible to reduce the price by negotiating which accessories are sold with the vehicle. Other price discrepancies can be purely due to the differences in the pricing policies of individual auction companies.
Background Information
When this type of investment is made, it would be wise to do some type of research about the person or company selling the vehicle to avoid fraudulent deals. Such information can provide many important facts about the telescopic boom crane that would help determine whether or not it is a good investment, including: how long and in what type of environment the vehicle has been used; what repairs have been made in the past; and how much maintenance is required on a regular basis. All of this is important in determining the value of a truck. It would be unwise to buy an admittedly defective, yet inexpensive truck in the hopes of restoring it by using inexpensive repair methods; this usually turns out to be neither cheap nor effective at all.
Remember that it is important to do some homework before purchasing a telescopic boom crane. Needs of the business should be researched as well as the reputation of those selling them, whether a dealer or an auction company. Taking the time to prepare for the purchase of will help a such a vehicle will help find a high-quality vehicle at a great price!
You may be interested in: