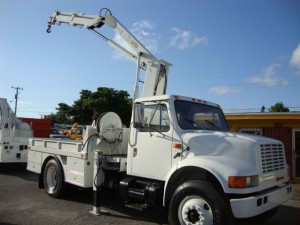 Many commercial vehicles have been developed to lighten the workload of field workers, increase overall business productivity, and handle as many applications as possible, including knuckleboom trucks. These vehicles have been designed with a flexible boom arm that can be configured to accomplish multiple projects at the same time. The arm can be folded into a compact size as well as be fully extended, making it more advantageous than its counterpart. The right attachment hydraulically mounted on a vehicle chassis can form a versatile and highly-functional knuckleboom truck. Consider some of the following benefits offered by this useful heavy-duty commercial vehicle.
Increased Payload Capacity – Heavy-duty commercial vehicles have different degrees of payload capacity. These trucks allow for greater flexibility to carry more cargo. The foldable boom is designed lighter and more durable, with high tensile strength that can fold up into an open truck bed that can also carry a large amount of heavy material common to the construction, forestry, and municipal sanitation industries. It delivers a competitive vehicle that is a good choice for a start-up business since it can provide quality customer service as an essential part of the entire operation.
Low Profile – There are no worries when the boom arm is fully extended because this truck's configuration provides a low profile that allows for managing loads in a lower-horizontal extension with or without extending the hydraulic riggers as long as the weight is within the rated limit capacity. This allows the vehicle to move in tight spaces and be driven in narrow pathways to accommodate diverse lifting activities with ease and comfort. When it is hard to handle material in limited space, a jib add-on configuration is a possible solution as it can alter lift angles, granting greater access to confined areas.
Increased Lifting Capacity – One of the obvious benefits of a foldable boom truck configuration is its weight lifting capacity that can range from 6 to 12 tons no matter how high the boom is extended. It is important to always check reaching and lifting capacity; these are the two most essential factors to consider and should be asked about during the buying process. Manufacturers measure the maximum carrying capacity when the boom arm is horizontally extended with a jib add-on or extensions set at various angles.
Increased Control – With truck technology advancement, this machine delivers direct control over the load even if it is configured to become a grapple or crane when it is not swinging. Aside from that, four different control options can be chosen such as wireless radio, ground, top-seat, and stand-up controls to enhance production efficiency and facilitate safe loading, unloading, lifting, and transferring of material.
Multifunctional – Basically, the vehicle can be configured to accomplish any task imaginable. With the right attachment, it can be altered to become grapple equipment (clam-shell and bypass types) that is used in the municipal sanitation and logging industries. It can also be configured to become a digger derrick that make the work of lineman fast and efficient. In general, the functionality of the vehicle is very reliable in covering different projects and in satisfying customer needs and expectations.
These machines were designed as crane trucks to load and unload heavy material. Usage proved that more than crane work could be done, that multiple projects could be handled at the same time, delivering higher productivity and profitability to a company.
Given above are only a few of the benefits that can be found once knuckleboom trucks are purchased; however, it is important to remember that a unique design with the right attachments is key to finding the full benefit of these truck to: haul bulky wastes, cutting timbers into desired lengths, dig holes, and lift workers to various heights. These are indeed the compact, controlled benefits of knuckleboom trucks!