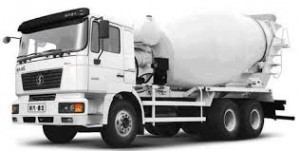 Popular media, including films, TV shows and cartoons have played on the size of a concrete mixer truck and developed certain characters to fit each story. The size of a concrete mixer truck on these shows varies depending on the genre and the purpose of the truck character in the story. It may look cute, especially when you see an animated truck talking and helping the main character solve their problems, but in reality, these trucks that is popularly known as cement mixer is not only big, but also provide big help in the construction project where these are being utilized.
More about the Sizes
The typical size of a concrete mixer truck in terms of weight varies from 20,000 to 30,000 pounds or 9,100 to 14,000 kilos. The regular size of a concrete mixer truck can carry load of about 40,000 pounds or 18,000 kilos of concrete. The most common kinds have the capacity of 8 cubic yards. In the United Kingdom, most of these mixers have speed limit of 56 miles per hour.
Understanding Its Essence
The size of a concrete mixer truck varies depending on its type. This device is responsible in combining cement, water and sand or gravel as an aggregate in a consistent manner to be able to create concrete. The typical types utilize a revolving drum where all the components needed are mixed. If the requirement is not that heavy, there are portable types of mixers that can be used instead of resorting to a truck. Aside from the portable types, concrete can also be mixed manually by hand.
There are various types of concrete mixer trucks that can be found nowadays. This is a clear indication that the industry is growing and many companies and individuals are resorting to these to make the work easier and done at a faster pace.
Industrial mixers are categorized in three, such as the twin-shaft mixers, drum mixers and vertical axis mixers. Twin shaft is preferred for fast results and high intensity kind of mixing. This can produce concrete with high strength, SCC and RCC. A drum mixer can produce large volumes of concrete and is preferred by companies that require slump concrete. The vertical axis is typically used for pre-stressed and precast concrete.
The kind of mixer and the size of a concrete mixer truck contribute to its speed and quality of its outcome. You have to know the requirement of the project before you decide which type of truck and mixer will suit the construction's needs.