In the past few years, many modifications have taken place with the crane truck certification process, brought about as a result of proposed OSHA rule changes. Industry experts questioned the changes to the safety parameters when they first came about, since it appeared that a number of points seemed to work against the process of accrediting operators. This appeal eventually led to another review and re-evaluation of the proposed changes so that any points of contention were addressed and clarified.
Upon publication of the new accreditation rules, industry representatives discovered that because of changes in the wording of OSHA's final revision of the new standards, some of them had taken on a different meaning. As a direct result of this, the conclusion of the new crane operator certification process cannot be finalized.
Variable Interpretation Problems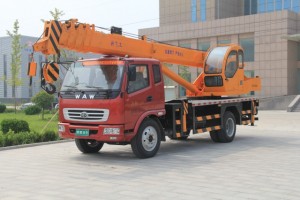 According to the National Commission for the Certification of Crane Operators (NCCCO), the problem exists with the amended rules submitted to OSHA that were later approved. Questions about the entire certification process were addressed and acceptable changes made by the Cranes and Derricks Advisory Committee (C-DAC) that had been working with OSHA for years to create safety rules within the industry.
When the final standards were published, it became apparent that the wording had changed in such a way that it left unanswered questions as to the initial intent of the rule. Even though OSHA's objective was to further clarify and increase safety, the published change had altered how cranes were to be classified by either capacity or type, resulting in the creation of a completely different safety issue.
Capacity versus Type
The primary concern of the NCCCO and C-DAC was certifying operators by crane capacity versus type – and in the opinion of industry experts, the published rules left too much room for error. Cranes have always been classified by type and each one requires different operational skills; the rules left open the option to qualify them by capacity alone and did not address this important difference. It was pointed out that being able to handle a certain capacity is not the same as being able to handle every different type.
The industry supports the claim that this is not what was intended by the C-DAC changes and that last-minute additions by OSHA to the ruling could make this important operation less safe. While OSHA does agree that it lacks the expertise or knowledge about crane operations and could not have formulated the document alone, the published rules in question currently remain. As a result of this, the NCCCO has stated that until such time as this issue is corrected, no changes will be made to its certification process that was driven by crane type.
Certification or Qualification?
Another area where the final edits done by OSHA are being challenged is in its definition that certification is the same as qualification. Industry experts state that there is a huge difference between earning a certification card versus having been qualified to skillfully operate certain equipment. The OSHA ruling on accreditation is general, rather than specific to certain types of cranes, which the industry believes is unsafe. NCCCO and C-DAC maintain that accrediting is a part of qualification but should not allow operators to handle all crane types.
With OSHA's projected date of November 10, 2014 for all crane truck handlers to be certified looming closer and with questions involving how currently certified operators are to be re-certified, it seems there is still much work to be done on these safety rules. NCCCO has stated it will continue to certify crane operators as usual until OSHA, C-DAC, and industry experts can clarify the concerns of the industry so that the final results are standards that promote safety rather than reduce it!